SERVES 6
Like most recipes you find, particularly for classic dishes, the recipes will differ along the way, depending on where you look, this recipe is no different, but basically New England chowder is a chunky, creamy soup full of seafood and potatoes. You can make it with all clams to become a clam chowder but most will use a mixture of seafood like I'm doing today.
In my top tip below I'll show you how to make a fantastic accompaniment for your chowder, another real taste of America. I'll show you how to make fantastic corn bread which when served warm with butter makes the most amazing garnish for a bowl of New England seafood chowder.
1 potato peeled and diced
300g un-dyed smoked haddock fillets
1 shallot halved
2 bay leaves
6 rashers bacon chopped
1 onion finely chopped
900ml full-fat milk
40g unsalted butter
1 onion chopped
2 cloves garlic finely chopped
1/2 tsp fresh thyme leaves finely chopped
200g sweetcorn kernels
6 scallops sliced
24 cooked mussels
250g White fish (haddock, cod, hake, Pollack etc.) diced
200g raw king prawns
1 tbsp. chopped fresh flat-leaf parsley
Freshly ground black pepper
Place the smoked haddock in a pan with the bay leaf and shallot and cover with the milk. Bring to a simmer for a few minutes, then take off the heat and leave in the milk to finish cooking.
In a large pan, gently fry the onions, thyme and bacon in the butter until softened. Stir in the garlic, potato and sweetcorn.
Lift the haddock out of the milk with a slotted spoon, place on a plate then tear into pieces. Strain the milk through a sieve into the onion, bacon and potato mixture and simmer for about 20 minutes.
Add the cooked haddock, sliced scallops, mussels, white fish and the prawns and warm through for a few minutes then stir in the parsley and season with black pepper.
TOP TIP
The perfect accompaniment for this chowder is some corn bread served warm from the oven and slathered in butter. To make this is really easy!! Mix together the following ingredients in a large bowl, 375g plain flour, 225g cornmeal, 1 tsp salt, 4 tsp baking powder, 110g sugar, 480ml blue milk, 2 free-range eggs, 110g melted butter and a small tin of sweetcorn. Now butter a baking tray or dish and pour the mixture in, bake at 199c for about 20-25 minutes then remove, allow to cool slightly and cut in to large chunks before buttering and serving with the soup. Delicious!
Michael Kilkie, UK NPD Chef
Sundays are almost certainly everyone's favourite day for a roast, it's tradition really isn't it? Next time you're thinking of cooking a Sunday roast, whether it be today or next week, why not think a little outside the box and try this fantastic alternative to a traditional Sunday roast?
VIEW RECIPE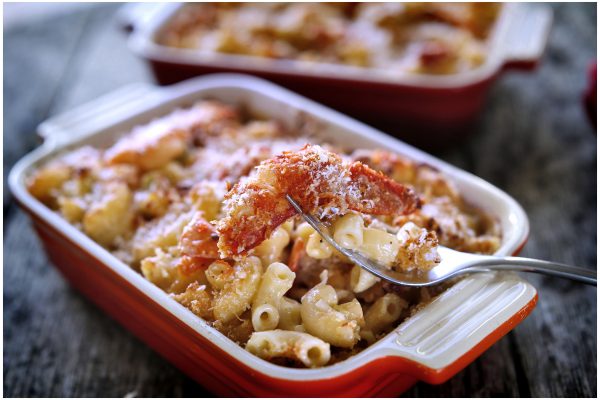 Macaroni cheese is possibly the ultimate comfort food, and this dish is no exception to that rule but with a little bit of a twist by adding lobster.
VIEW RECIPE
This recipe is a favourite of one of our chef's. It also has a couple of twists along the way, but on the whole it's a traditional New England seafood chowder.
VIEW RECIPE