SERVES 6
To serve 6 people comfortably we recommend buying a side of salmon about 1.4kg in weight, don't worry if it's a little bit more or less!! Another tip is to buy the salmon with the skin on, this helps it stay moist and hold its shape, making it easier to serve!!
To make the potato salad extra special try and get your hands on some jersey royals, they will turn a good salad into an amazing one.
Lastly if you fancy a slightly different flavour to your salmon, check out our top tip and we'll give you an alternative rub to try.
FOR THE SALMON
1/2 teaspoon salt
1/2 teaspoon caster sugar
1/2 teaspoon ground cumin
1/2 teaspoon ground coriander
1/2 teaspoon paprika
1/4 teaspoon ground white pepper
1/4 teaspoon ground ginger
2 cloves garlic crushed to a paste
Juice 1 lime
1 tablespoon finely chopped fresh coriander
3 tablespoons oil
1.4kg side of salmon approx., skin on
Mix together all of the ingredients apart from the salmon and 1 tablespoon of the oil and rub evenly in to the skinless side of the salmon and allow to sit in the fridge for 1 hour.
Line a large baking tin or sheet large enough for the salmon with foil and rub with the remaining tablespoon of oil before placing the salmon on skin side down.
Roast for 20 minutes at 190c until the salmon is cooked through and the flesh is moist and flaky.
FOR THE SALSA
1/2 cucumber, peeled, deseeded and chopped
1 punnet cherry tomatoes quartered
1 red onion finely chopped
1 red chilli finely chopped
2 tablespoons fresh chopped coriander
Juice 1 lime
2 tablespoons oil
1 tablespoon runny honey
1/2 teaspoon paprika
salt to taste
Mix together all the ingredients and season to taste with salt.
FOR THE POTATO SALAD
800g waxy potatoes
1 tsp Dijon mustard
1 tsp grain
75g mayonnaise
60g soured cream
1 tbsp. salad cream
1 bunch spring onions, thinly sliced
1 tbsp. capers, finely chopped
1 tbsp. gherkins, finely chopped
Juice 1/2 lemon
Handful of coriander, finely chopped
Handful of mint, finely chopped
Salt to taste
Boil the potatoes until tender for about 15 minutes in boiling salted water. Drain and allow to cool slightly before cutting in half.
Mix together all the ingredients, season to taste with salt and toss well with the potatoes.
Serve the salmon in the centre of the table with the potato salad and salsa and allow everyone to dig in!!
TOP TIP
If you don't fancy the fragrant Indian spices of this recipe why not try our Cajun influenced blackened salmon?   It's really easy, just follow the main recipe for cooking and preparation but with the following rub. Mix together1 tbsp. paprika, 1 tbsp. garlic powder, 1 tbsp. onion powder, 2 tsp salt, 2 tsp white pepper, 1 tsp dried thyme, 1 tsp dried oregano, 1tsp chilli powder, 1 tsp cayenne pepper and 2 tbsp. of oil. It tastes fantastic and still goes brilliantly with the warm potato salad and cucumber salsa.
Michael Kilkie, UK NPD Chef
Our summer seafood stew is a beautiful light stew, with a mix of fish and shellfish in a tasty tomato and stock base.
VIEW RECIPE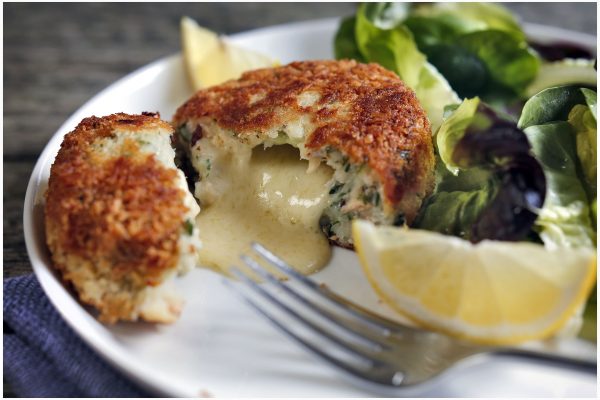 Something that has made an appearance in all the major supermarkets over the last year or 2 is fishcakes, but not your run of the mill fishcakes, fishcakes with a soft, melting centre. Our guess is that the first person to come up with them and take them to the supermarkets, got the idea from a chocolate fondant. This fishcake is almost like a savory version of a chocolate fondant, where the fondant has warm chocolate sauce in the centre surrounded by chocolate sponge, our fishcake has gooey, melting cheese middle surrounded by a delicious mix of fish and potato.
VIEW RECIPE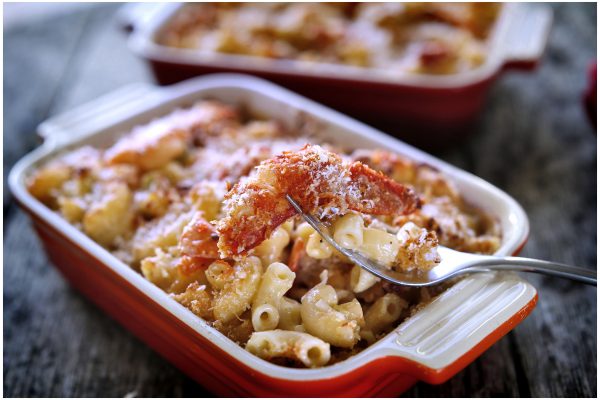 Macaroni cheese is possibly the ultimate comfort food, and this dish is no exception to that rule but with a little bit of a twist by adding lobster.
VIEW RECIPE