SERVES 4
We're using chimichurri as a sauce, come dressing, for a beautiful piece of cooked and cooled salmon. You can roast or poach the salmon but what we like to do is roast the salmon with some of the chimichurri over it to really get the flavours working, adding the rest later on.
 If you want to make this recipe even easier than it already is, when it comes to the puy lentils, buy yourself a packet of cooked puy lentils, they come in pouches and are really good!!
 Other than the main players of salmon, chimichurri and puy lentils there's lots of other tasty morsels in there but the other key one is feta cheese, but if you're not a fan of feta cheese you could always use something else, goats cheese is another that works really well in this recipe.
For the chimichurri
Small bunch parsley, roughly chopped
½ tsp fresh oregano
2 garlic cloves
1 shallot, chopped
½ tsp chilli flakes
3 tbsp olive oil
Juice ½ lemon
2 tsp red wine vinegar
Good pinch salt
Blitz together everything in a food processor or by hand in a pestle and mortar.
For the salmon
Brush each fillet of salmon with a small amount of the chimichurri sauce and cook in the oven for 10 minutes at 190'c then allow to cool.
For the salad
1 red onion, chopped
1 tbsp olive oil
2 garlic clove, chopped
400g Puy lentils, rinsed
Chicken or vegetable stock cover the lentils
Packet of feta, crumbled
Tub of sunblushed tomatoes, chopped
1 tbsp fresh coriander and parsley, chopped
Grated zest of 1 lemon
Juice of 1 lemon juice
Extra-virgin olive oil
Salt and pepper to taste
In a pan, soften the red onion in the olive oil. Add the garlic cloves and fry for 1 minute.
Add the Puy lentils, cover with the hot vegetable stock, bring to the boil and simmer until tender. Drain, then stir in the feta, sunblushed tomatoes, parsley, coriander and the lemon zest.
Season with salt and pepper, add the lemon juice and drizzle with extra-virgin olive oil.
Serve the salmon on top of the lentil and feta salad and top with the remaining chimichurri sauce. Enjoy!
TOP TIP
As well as being a natural partner for steak, as so perfectly demonstrated by the Argentinians, Chimichurri is actually fantastic with most things. It goes swimmingly with white fish but if you're not a fan of fish, then why not try it with a bit of chicken. Chicken can be a bit bland so chimichurri is actually the perfect partner for it, bringing to life something that people can find a wee but boring sometimes. Treat the chicken exactly like the salmon but give it an extra 10 minutes in the oven, amazing!
Michael Kilkie, UK NPD Chef
This recipe is a favourite of one of our chef's. It also has a couple of twists along the way, but on the whole it's a traditional New England seafood chowder.
VIEW RECIPE
Our summer seafood stew is a beautiful light stew, with a mix of fish and shellfish in a tasty tomato and stock base.
VIEW RECIPE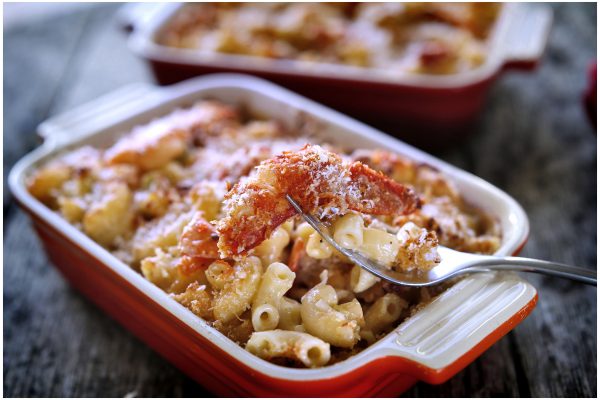 Macaroni cheese is possibly the ultimate comfort food, and this dish is no exception to that rule but with a little bit of a twist by adding lobster.
VIEW RECIPE